5Axis Mill with double ended high speed spindle for instant toolchanging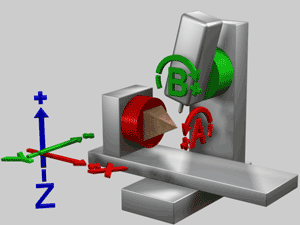 A rotary table sits vertically on the mill table
The Spindle pivots on the B-Axis which is attatched to the Z-Axis

Our first useful CNC machine, this 5-axis CNC mill was converted from a manual Taig milling machine.
The toolpaths are made in 3DS MAX using a suite of custom functions we've developed that form the CNC Toolkit
Motion control is handled by Mach3 which can simultaneously coordinate movement of up to 6 axes.

5th-axis added by mounting a CNC rotary table on the Z-axis slide.

Very first test cuts using 5th-axis for a design on the surface of a hemisphere.